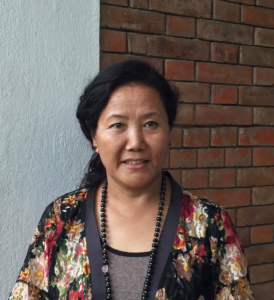 Nimdiki Sherpa, Founder and Director, Beads for Life Nepal
By profession Nimdiki is a Montessori Teacher, but she has no regrets about changing careers. Helping the Beads for Life Nepal women and their families is a vitally important project and Nimdiki is fully satisfied with her work. She feels she has had the good fortune to acquire many qualities through her education and family background, and tries to apply these qualities to guiding Beads for Life Nepal: clear vision, positive thinking, self-esteem, hard work, and a helping nature.
As for the business aspect of her work, Nimdiki says, "Selling inexpensive, striking jewelry is a competitive market. We buy most of the beads from India and the rest from Nepal; mostly fine glass beads and silver, and occasionally semi-precious stones. We have gradually acquired supportive, regular customers, both retail and wholesale, and are always looking to expand our market worldwide."
Thank you for visiting Beads for Life Nepal. Namaste!